WEEDS info
Presentation to the Third International Fire Ecology and Management Conference
Presented in San Diego on November 17, 2006 in the Wildland-Urban Interface Track.

VIEW PRESENTATION
WILDFIRE Magazine Article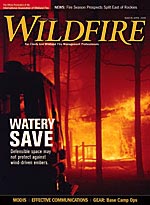 Brand Dilution (Cover article); Wildfire Magazine; Mar. 2005
by Joseph W. Mitchell
Here are some references behind the article
WEEDS: Firebrand Defense for the "Typical Catastrophe"
The ideas underlying the WEEDS concept, the proposition that firebrands are responsible for a preponderance of home ignitions, and other concepts put forward in this article come from a number of sources. For those interested in further research, here they are.
Fire Safety Journal
An international journal devoted to research on Fire Safety Science and Engineering

Official Journal of the International Association for Fire Safety Science

Fire Safety Journal is the leading publication dealing with all aspects of fire safety engineering. Its scope is purposefully wide, as it is deemed important to encourage papers from all sources within...
Home & Fire Magazine
Spring 2005 edition contains WEEDS: Wind Enabled Ember Dousing System. p. 32

VIEW ARTICLE (pdf)